Abdominoplasty (Tummy Tuck)
Abdominoplasty and Liposuction with Abdominal Muscles Sewing, Iris 34 years old
After I gave birth my abdominal muscles separated and excessive skin remained on my belly. That is why I decided to get abdominoplasty. After this operation the most painful process was the abdominal muscles sewing but thanks to the strong medicine that was very effective I felt good. I am very happy with the results. I can't even believe it. My stomach is flat, I have nice belly button and the scar is gradually fading out!
For how long have you been thinking about the operation before you booked your consultation?
I was thinking about it for almost 5 years. The excessive skin bothered me increasingly in time, so I started looking for solutions online. I booked my consultation for the 2nd of March and in the 11th of June 2015 I underwent the surgery.
What were you afraid of the most before the surgery?
I was afraid of the possible postoperative complications. Luckily I didn't have any at the end and the scar was healing fine.
Why did you choose MUDr. Petr Hyza Ph.D.?
I was able to decide according to the previous patients reviews. I read many reviews for different plastic surgeons and I found out some women were not so lucky. I also contacted some of Dr. Hyza patients. They were willing to send me pictures and the results were amazing so I decided to choose him.
How much did you pay for the plastic surgery including the abdominoplasty and liposuction?
I paid 4200 for everything.
See our Tummy Tuck package.
Abdominoplasty, Ellis 39 years old
13th of July 2015 I took abdominoplasty with hips liposuction at the Brandeis Clinic. I was very afraid of the operation because it was my first one. Due to pregnancy I had the sagging belly. My kids were really big, so my maternity belly was twice as big. After my second delivery my skin remained stretched and I also got some stretch marks at the lower part of my stomach. Although I do sports often, I couldn't help it. There was nothing left to do. The belly decreased even more with age and I was very unhappy about it. After a long phase of decision making I finally determined myself to go for a surgery. I am really happy now!
How did you feel right after the abdominoplasty?
Dr. Hyza was very kind and helpful. You really want to be around that kind of people when you don't feel good. I was really afraid of the general anesthesia, but I felt completely fine after I woke up. Only issue I had was my ability to sleep, but that also got back to my balanced routine after few days.
Are you happy with your results?
My stomach now looks very good. I almost can't believe that Dr. Hyza was able to modify what I had there into something like this.
How did you cope with the pain in the first days after the operation?
The first days were the worst, but I got some really good medicine after the surgery so I felt pretty good. I was trying to keep myself away from coughing and sneezing because I thought that would really hurt. But after ten days I wasn't even aware of any pain during my casual daily activities.
How did your first days after surgery looked like?
I was suggested that the very first week after the operation I should remain very calm and sleep a lot. I was always wearing the elastic lingerie and I wasn't allowed to lift anything heavy.
See our Tummy Tuck package.
Breast Surgery
Breast Enlargement with Mentor Implants, Maria 38 years old
Before breast augmentation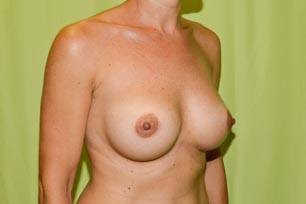 6 months after breast augmentation
Maria, you live in Sweden, why did you choose to go to Prague for a plastic surgery?
The reason is that I am originally from Prague and I know Dr. Hyza from the university so I know I can trust him on a 100%. I live in Sweden with my husband, who was initially against the surgery. He said I didn't need it, but eventually he supported my decision. Also my friend from Switzerland accompanied me to Prague and Dr. Hyza performed the surgeries on both of us on the same day.
For how long were you thinking about the surgery before you booked your appointment?
I was thinking about the breast augmentation for about 3 or 4 years. I have two kids, my older son is 8 years old and the younger is 5 years old. After I finished breast feeding him, my breast were sagging and I wasn't happy with how they looked like anymore.
How big are your implants? Did you also undergo the breast modelation?
No I had no modelation and I left the decision about the size of the implants on him. He has chosen anatomic implants Mentor of 330 ml. He accessed the breast from the nipples and put the implants under the muscles.
Are you happy with your results?
Yes, I am very happy with my results. You would not even tell that I have implants. Not even my gynecologist could recognize I have implants. The scars around my nipples really blend in with the areola.
How much did you pay for the Mentor implants?
All together with one day hospitalization it was 3900 EUR. After the surgery I stayed with my parents for two weeks. It was more expensive in Sweden and I wasn't sure about the quality of the plastic surgeons there.
See our Breast package.
Breast Augmentation with Motiva Implants, Judy, 26 years old
I realised my problem with small breasts in grade school. I am a 75A and I'd like to move onto larger BS or even CS. I want a breast augmentation for a long time My confidence will grow and I'll accomplish my dream of wearing whatever I want without faking the bust.

I found out about Brandeis Clinic in Prague on Facebook, I really liked their services and approach. The consult with Milos Krizko M.D. took around an hour. I want to have bigger breasts while keeping their natural shape. We have decided to go with chipped ergonomic implants by Motiva under the muscle.

My breast enlargement was performed under the least toxic general anaesthesia, which is nowadays available. So I wasn't sick after the procedure. I was hospitalised overnight and I have left the clinic the next morning. I got a quite strong analgesics against pain. For the first check-up I came after 1 week. Dr. Krizko has removed the elastic bra and bandages, performed basic hygiene and suggested further approach. I had to wear a special elastic bra for 3 next weeks. That time the result wasn't still final, breasts had to settle down during next 3 months.

I have to confess, I was very scared and nervous for the surgery, but I'd surely do it again, it is nothing horrible and the result is worth it although it is a painful experience.
See our Breast package.
Breast Asymmetry Correction, Jane, 23 years old
I realised I had a problem with my breasts when I was 16, as I entered puberty I found out my left breast was smaller. Once I got a boyfriend, I wanted to look good for him and also for myself. I felt really uncomfortable whenever I was supposed to undress in front of a boy, I promised myself I will save up for the surgery one day. I wanted to be able to wear swimsuit without any shame.

First I had a consult with Andrea Musilova M.D. in Prague, because she has great reputation among her former patients. I asked her what she can do to equalize the size of my breasts. We have decided to enlarge the left size, not to reduce the right one. She has shown me the different types of implants after that we have decided that an ergonomic implant by Motiva suits me the best. Ergonomic implant is able to change it's shape based on the body's position. When I lay down the implant will not stick forward but adjust its shape, it looks very natural and are very soft to touch. The exact size of the implant was set during the breast surgery, which took less than an hour. We changed bandages the following day, as I felt good I was allowed to go home. The first check up was 1 week after augmentation.

I love my new breasts, finally I can wear deep necklines, I feel great and I'm not afraid to show myself. I expected the pain to be worse and I'd do it again.
See our Breast package.
Breast Augmentation with Tear Drop Natrelle Implants, Edita, 29 years old
My breasts changed after pregnancy and I didn't like what I saw. I had a really good figure before the kid, I worked as a model. But the agents who represented me, told me that I have to do something with my breasts, because they were sagging like empty. I have never thought about a cosmetic plastic surgery before.
Did your loved ones supported you?
My father told me that I do not need any breast surgery. He thought that it is a stupid idea to put something synthetic into my body that any unnatural material is not good for a natural human life. He was sure that I will have problems with the implants after augmentation. My mother stayed with me, she tried to understand me and encouraged me.
Why have you chosen Petr Hyza M.D.?
My friend, she is also a model, has a beautiful and natural looking breast from him. Then I saw the story of woman who lost her breasts because of cancer in the TV. Dr. Hyza reconstructed her breast using a tissue, fat and vessels from her abdomen. The result vas great. Also my practitioner told me that Dr. Hyza is an excellent breast surgeon. And he was very kind and professional during the consultation.
What brand and what type of implants have you chosen?
First of all I wanted to achieve a natural looking result. I was seeking for breast implants that will give me the most natural look and at the end we have chosen a teardrop implants (Natrelle, 295 ml).Dr. Hyza inserted the implants partially under the muscle. The incisions were made at the border of the areola, so the scars was well hidden by areolar tissue. First 3 days after the breast augmentation were unpleasant, I was very tired but the pain was quite tolerable. Dr. Hyza used a local anesthetic infiltration prior to incision and I got an effective pain medication.
Who helped you during the recovery period?
My son was 2 years old that time. For first 14 days my mother helped me a lot.The worst for me was that I had to sleep on my back for 3 months after the surgery to prevent deformation of the implant. I usually better sleep on my side or on stomach.
How much did you pay for the breast augmentation with teardrop implants Natrelle?
EUR 3500
Are you satisfied with your new breasts? How your agents and photographs like your figure?
In nude art photography everybody prefers a natural looking breasts. Photographs will not hire a skinny girl with fake breasts looking like two beach balls spread apart. The most wanted are surprisingly models with absolutely natural looking breasts and also women that have larger buttocks and thighs, skinny models aren't sought after and popular. Fashion models can be skinny, this is just because the clothes look better on skinny people.
See our Breast package.
Blepharoplasty (Eyelid Surgery)
Upper Eyelid Surgery, Monika, 39 years old
The last two years, since I came back from the maternal leave, I found out that my eyes are getting very tired. So much that at night it was sometimes even unbearable, the eyes were really pressing inside. After a little while sitting by a computer, I had to keep closing my eyes to let the eyelids rest, because the pressure was so high. I looked older, more tired and sadder. That is why I started to think about upper eyelid surgery.

My plastic surgeon Andrea Musilova M.D. from Brandeis Clinic in Prague told me, that I have excess tissue on my upper eyelids and it is causing eye fatique, migraines.

The procedure was painless and after an hour, I was able to leave the clinic, I kept a small bandage on my eyelids, but I saw normally.

One week after procedure dr. Musilova removed the bandages and stitches. Healing process went well, I had only minimal swelling and almost no bruises. I was instructed about the following care, massages and protection from sunlight.

The final result totally surpassed my expectations, my look is bright and I don't look tired. A lot of people tell me I became younger.
See our Facial suergery package.
Rhinoplasty (Nose Reshaping)
Shortening of a Long Nose, Olga, 46 years old
I have 10 years old son, one day he told me, that other kids asked him, why my nose is so long. I asked him what he replied. "I don't know, I didn't know what to say", he said. This was the last thing to push me towards the surgery. My nose has bothered me since childhood, especially since puberty.

For a long time I kept searching for a clinic to have an operation. Then my friend recommended me Brandeis Clinic in Prague. Her sister had a nose job done there also and she was very satisfied.

The consult with Juraj Payer M.D., FEBOPRAS took around half an hour. We talked about my ideas, about his technical capabilities for my nose job. Once Dr. Payer took my photos and he draw on a profile picture what we want to achieve.

My rhinoplasty was done under general anaesthesia, it took about 2 hours. 14 days after the surgery the splint and taping was taken down, my nose was still very swollen. I had to wait for the final result.

Now I am very satisfied, I have always wanted a smaller nose and now I have it.
See our Nose job package.
Secondary Rhinoplasty, the First Surgery at Another Surgeon Gone Wrong, Martina, 29 years old
Dr. Zaruba is the best plastic surgeon and an amazing person with a great attitude to patients. In November 2015 I had a revision rhinoplasty with Dr. Zaruba. He had to repair my nose after one of his colleagues. The first operation was done 8 month before this revision rhinoplasty. I am finally satisfied with my nose now. The outcome is just perfect, also the postoperative care was great. People at the clinic was nice and friendly. I am grateful for so excellent result.
See our Nose job package.
Liposuction
Laser-assisted Liposuction Slim Lipo of Abdomen, Adam, 24 years old
My problem has started 5 years ago, when I came to Prague to attend the university. I stopped to having regular physical activity and stress in school caused me to overeat. My stomach kept growing, I didn't like it, I started to exercise 2 times a week, my stomach shrunk a bit, however it went slower and slower and I have decided for liposuction to achieve perfect result. I won't be ashamed to put on a swimsuit in the summer.

The supply of liposuction surgeries is large in Prague. My interest has caught Brandeis Clinic, I have decided to undergo the procedure here. The consult with Milos Krizko M.D. took around half an hour, he was interested in my wishes and expectations. I have decided for laser assisted SlimLipo, because laser has an added effect to the tissues. Laser not only dissolves the fat but also has the effect of tightening out the skin. I am happy now 3 months after laser liposuction, my belly is flat and firm again.
See our Slim Lipo package.
Dental Treatment
Ceramic Veneers, Vanesa, 28 years old
Even in the early childhood, I was pretty much at home in a dentist's chair. After one traumatizing experience, I really began to be scared of dentists and I visited the dentists only when in pain, and I mean real pain. I was always embarrassed to smile, It may sometimes even have seemed when I smile, that was untrustworthy. It was very limiting.

I found out about Brandeis Clinic in Prague over the internet by chance when I noticed that my grade school classmate liked it on Facebook. I came to the clinic requesting an aesthetic dental treatment of mostly front teeth. First the entry examination was performed and the panoramic X-ray done. During the consult we've gone over different solutions to my problem. We have decided for a dental treatment using the CEREC CAD/CAM technology.

After sanding the tooth under local anaesthesia, the dentist created an electronic imprints by scanning the teeth using an intraoral camera, this way he get a 3D representation of the teeth.

Then he was able to design a veneer or crown for me. Afterwards, the staff milt my new teeth out of a block of ceramics using a special milling cutter. A teeth was afterwards polished, colorized, individualised and then after a check, glued inside my mouth. The dentist treated my upper teeth using all-ceramic veneers, I have asked for whiter teeth, so he used whiter material. He didn't invade my lower teeth, but for them not to disturb the aesthetic result, my lower teeth were whitened out. Today I have white teeth with no gaps and I am proud of my smile :)
See our Dental package.
Fat Transfer
Breast Augmentation Using Own Fat, Katarina, 23 years old
My hobby is dancing, I dance twice a week. I perform dressed in a costume and I'm showing of my bra, which is also the reason why I wanted my body shape to look better and be more womanly. I was thin with small breasts and wider hips. The difference between these body parts was about 2 sizes, which caused trouble for example in dressing up. My boyfriend was ok with my figure, but I was sure he would welcome if I had larger breasts.

Before fat auto-transfer into my breasts I expected my figure to become balanced. I had a consult with Juraj Payer M.D. FEBOPRAS. He told me that he will take most of the fat from the area of my hips. Liposuction of hips and fat transfer were done under general anaesthesia. The total surgery time was about two and half hours. Dr. Payer had to take the fat pretty much from everywhere he was able to suck it from. In the clinic surgeons use adivive system to gather the fat and separate the dead fat cells from the live fat cells, which have the best chance of taking root.

I felt great after the surgery, I felt no pain. I was able to return to normal life next day. I'm happy now, I have fuller breasts and slimmer hips, thighs and waist.
See our Breast package.
Facial Surgery
Facelift, Upper Eyelid Surgery and Liposuction on Chin, Audrey, 46 years old
Before
After
Before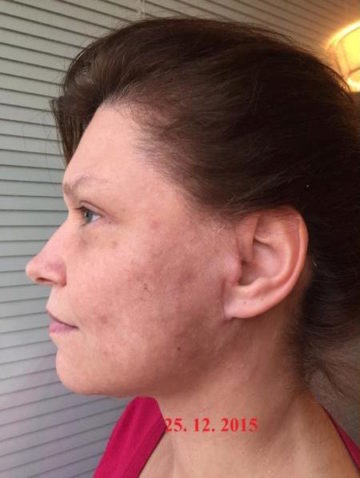 After
I have decided to undergo facelifting together with upper eyelid surgery in my 45 because I have to look presentable at work. I have chosen Petr Hyza, M.D., Ph.D. as I know he is skilled and experienced plastic surgeon and also microsurgeon and he performed my friend's breast reconstruction surgery amazingly 2 years ago.

The price I have paid for SMAS lift, upper blepharoplasty, liposuction on chin and tissue glue application was EUR 3300.

My surgery was done in local anesthesia and under analgosedation because I wanted it this way. The procedure took around 3 hours, I felt all right during the surgery. Dr. Hyza started with my upper eyelids, then removed approximately 1 inch of the excess skin from the face and moved and fixed the soft tissue, muscles and ligament. He also sucked some small amount of fat from my chin.

I returned home the same day. I received the instructions, compressive garment, antibiotics to prevent infection and some pain killers. I felt ok but looked like an UFO, so swollen my face was. Next day I had a moderate fever and the swelling came down a little. Small bruises appeared around the eyes and on neck, there were no bruising on the cheeks.

3rd day after the surgery I washed my hair. It was difficult but pleasant because the nurses soaked all my hair into a disinfection before the surgery. Dr. Hyza pulled out the stitches on the sixth day after the operation. It was no pleasure but it was very fast. 10 days after the surgery i looked well, I concealed small bruise beneath my eye with makeup and returned to work.

I am very satisfied with the result, I am more self-confident, look younger and feel better :) My next op will be performed by Petr Hyza, M.D. for sure.
See our Facial surgery packages.
Face and neck lift, Elena 60 years old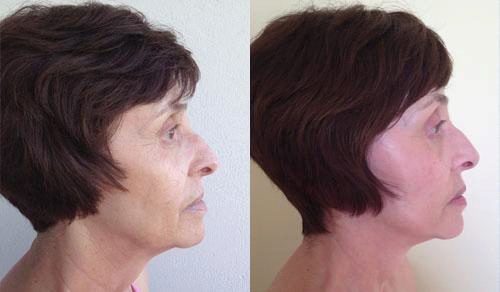 I had the face and neck lift on October the 2nd 2014. I had it in Prague, at Dr. Dusan Zaruba's clinic. First of all, I want to say, that Dr.Zaruba is a pure genius. He returned me to myself, and now I am looking forward for many happy years. I'm sixty years old. I was always looking much younger than my age, so I was never considering such radical thing as plastic surgery. But during last year I had the strongest and continuous stress, so all my years just jumped on me. After all it seemed that the life was over… I could not look in the mirror, and I could not afford the surgery in the place I live (Canada). Then I heard from someone that the prices in Prague are fare and the quality of medical services is high. And all of these turned out to be true.

I was very lucky to meet Dr. Zaruba because I did not have any information on any particular doctor in Prague. For very long hours I was searching through websites of Prague clinics. I found out that there is definite lack of information on this subject in the internet. Mostly, there are paid advertisements made by clinics. One of the best sites I managed to find was this one. It gave me an idea how to look and what to look for. So, to make long story short, I found Dr. Zaruba, and decided to go with him because I liked him. For me, he looked just right, like a doctor, not like a highly paid manager (that's how many of the doctors today look like). What I also liked, was the fact that they have a branch in Carlsbad, so after surgery in Prague I planned to go to Carlsbad to have some time for recovery in such a wonderful resort. In this case, if something would go wrong, I hoped to be taken care of.

So, I and my husband came to Prague three days before the surgery. I had my tests, and for three days enjoyed the one of the most beautiful cities. Then the day X came. I was a little nervous, which is common. By the way, in the clinic I met a woman, who came from America for the second time. First, she did the face and breasts, then came for upper lids surgery. She kept saying how lucky I am to get to Dr. Zaruba. And, she was absolutely right!

After I was accommodated in the room, the nurse made me an injection… and the next thing I remember was being in the same room, after the surgery, with the big white hat made out of bandages. It was over, and, from this point, the time was working for me. One night in the clinic, and, next morning I went home. I did not have any strong pain, just certain uncomforting, which is normal, I guess. Doctor gave me painkillers, and I had couple of pills on the first day. No antibiotics. They don't give it unless you need them.

On the third day I was allowed to remove the bandages and to wash hair. And then, we went for a long walk in the amazing Prague. Two days later I met my doctor, he checked up my condition, the stiches and so on. Everything was good, and he allowed me to go to Carlsbad. And the rest of the vacation was just perfect. As beautiful as it could be. By the way, my 60th birthday did not upset me a bit. I feel like forty, and look like forty. Like I have many years to enjoy.
See our Facial surgery packages.